Step by Step painting of Summer Meadow with Swallows by Gill Bustamante
Apr 29, 2019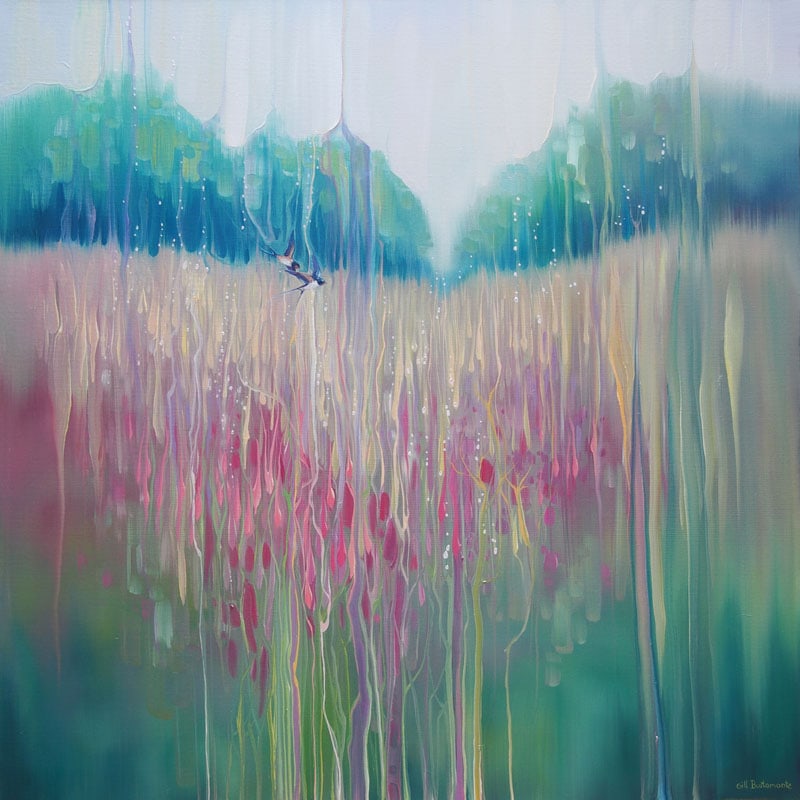 This is a description of how this painting was made over a series of three sessions. I used a blending, blurring, wet into wet painting technique that has taken me a while to master as the paint is quite hard to control. I have for some years taught watercolours to students and do like the random and expressive effects you can get with that medium. However I find it ultimately more satisfying to use oils and so have found a way to get similar random effects using oils. As well as generous amounts of oil paint, I use plenty of linseed oil and other mediums to speed or delay drying times, angle brushes, filbert brushes, mop brushes (for blending) and small round brushes for details. My colours are all as clean as possible – I dislike browns, blacks and muddy greens so never use them. Favourite colours – violet grey, purple lake, Indian yellow. Favourite cake – anything with lots of icing (essential for the process).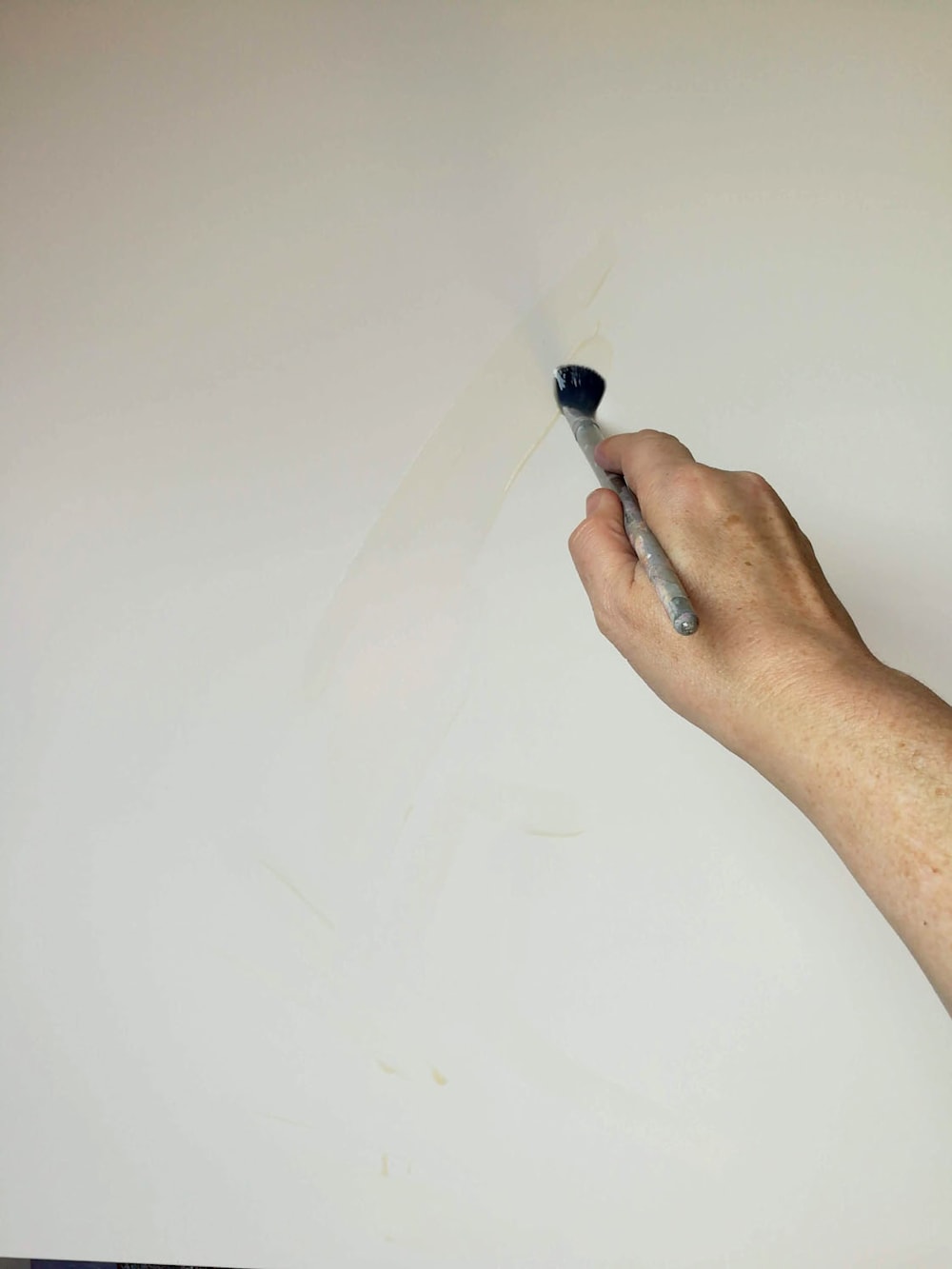 Step 1 – I covered the canvas (a 30x30 inches deep edge canvas) in linseed oil.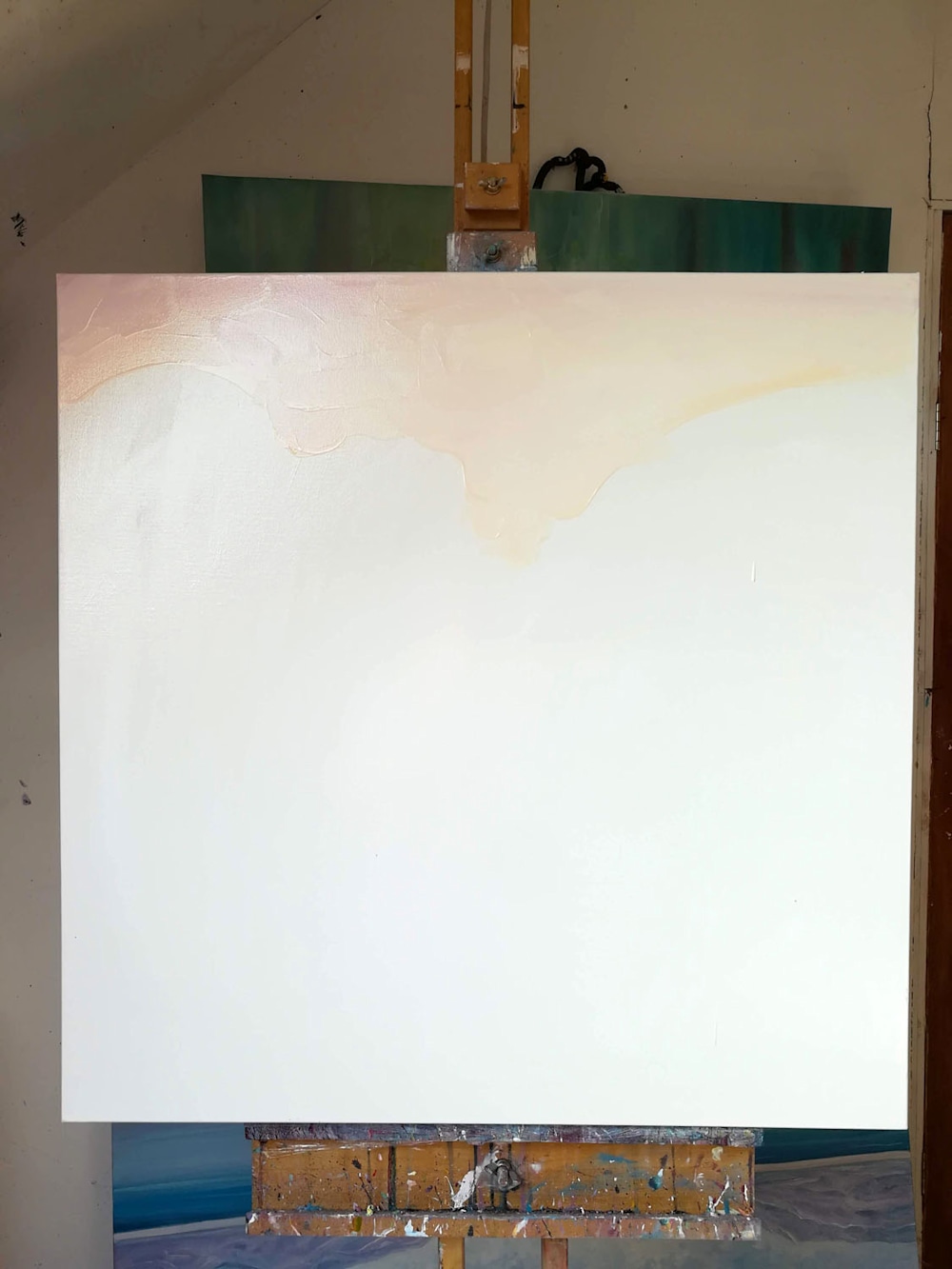 Step 2 – I roughly sketched out the field and trees and blocked in a pinkish sky. I often use pinks and reds with greens as they are complimentary colours and I like them together.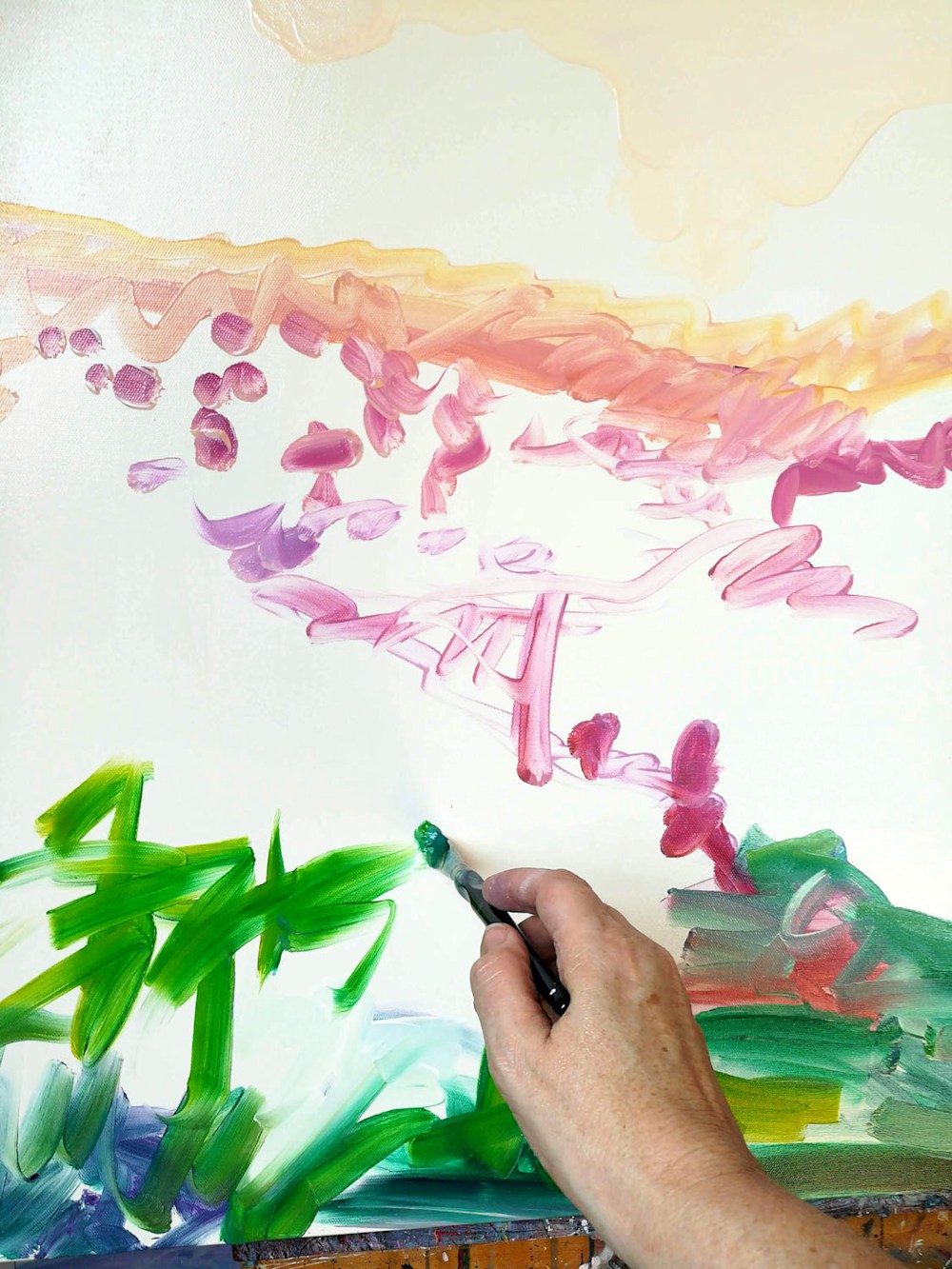 Step 3 – I then scribbled colours onto the wet canvas that I know will blend together to make enticing new colours. The pinks and yellows go on first and then greens, purples and blues. It looks horrible at this stage but does get better.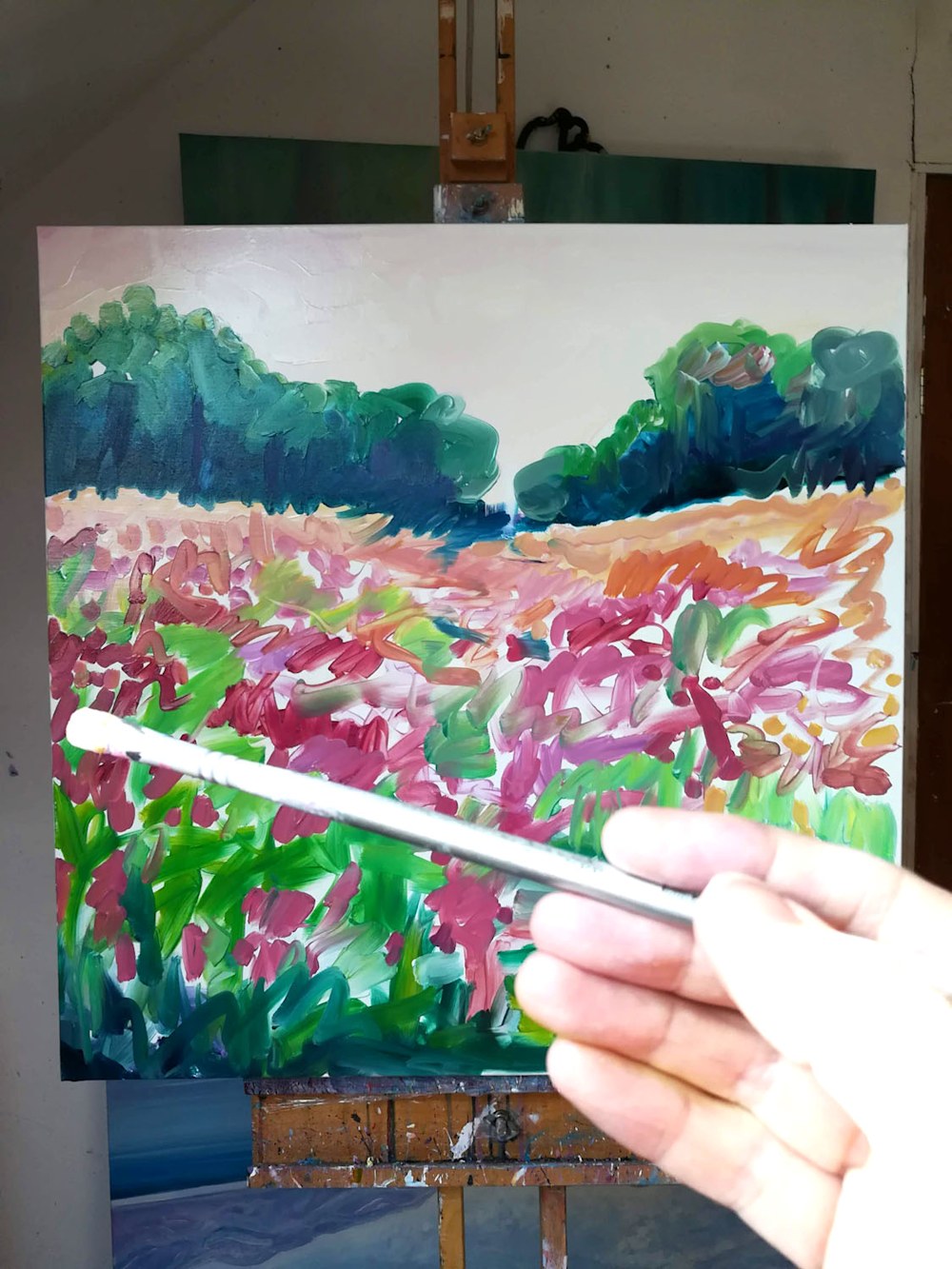 Step 4 – I continued to scribble my colours unto the entire composition. I use very bright colours as they will naturally tone each other down as they are blended together.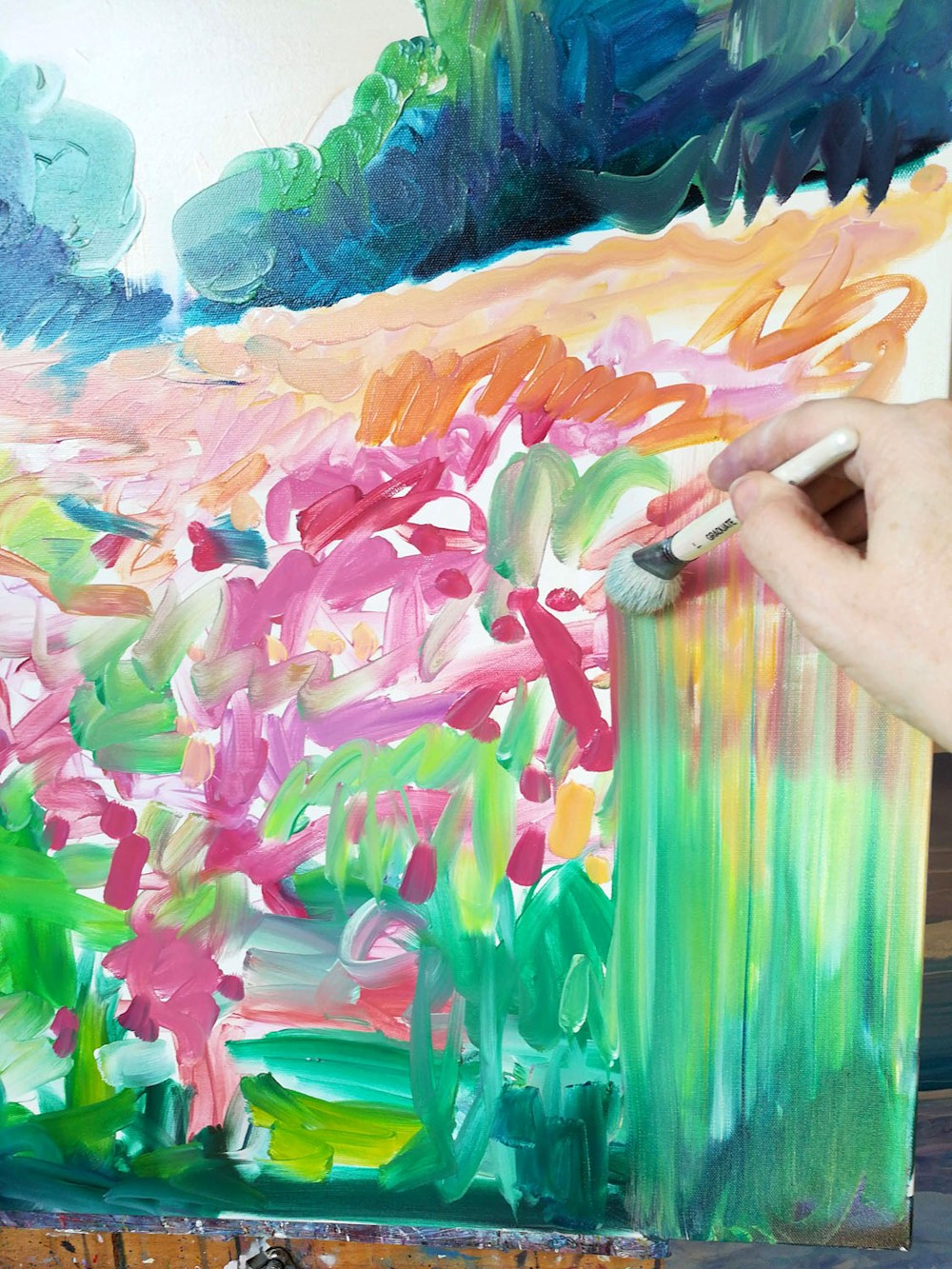 Step 5 – Then I took a mop brush (usually used for watercolours) and began to blend the paint upwards and downwards from top to bottom over entire canvas.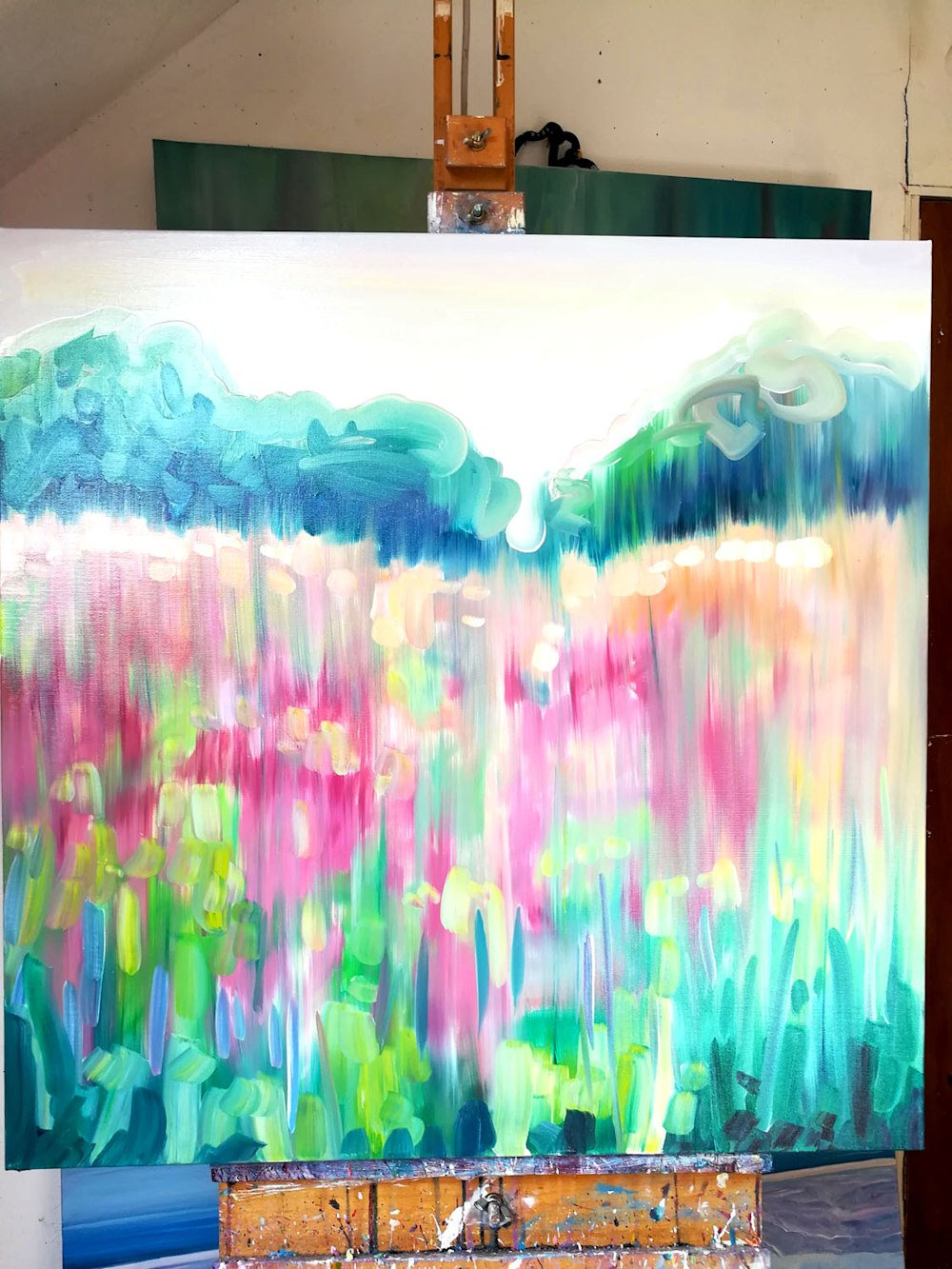 Step 6 – I then added more paint daubs here and there where I thought the paint needed beefing up.
Step 7 - I then took a clean mop brush and blended back and forth horizontally. I repeated this blending for a while, vertically and horizontally until the painting began to look softer and blurred.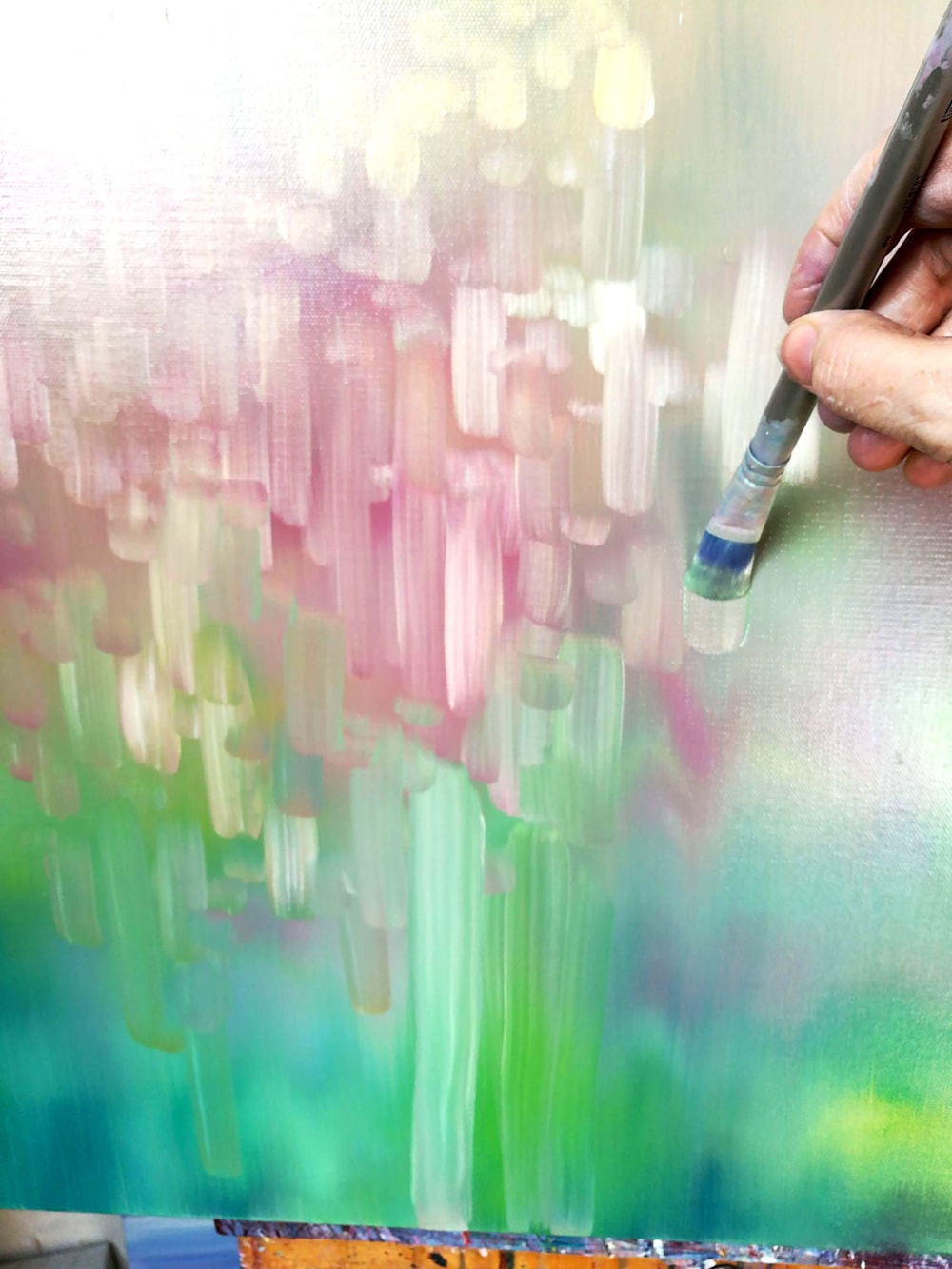 Step 8 - Then the fun began. I now used a selection of filbert brushes to make marks in the wet mixture that hint at wildflowers and grasses. I like the effect they have appearing to float against the smooth blended background.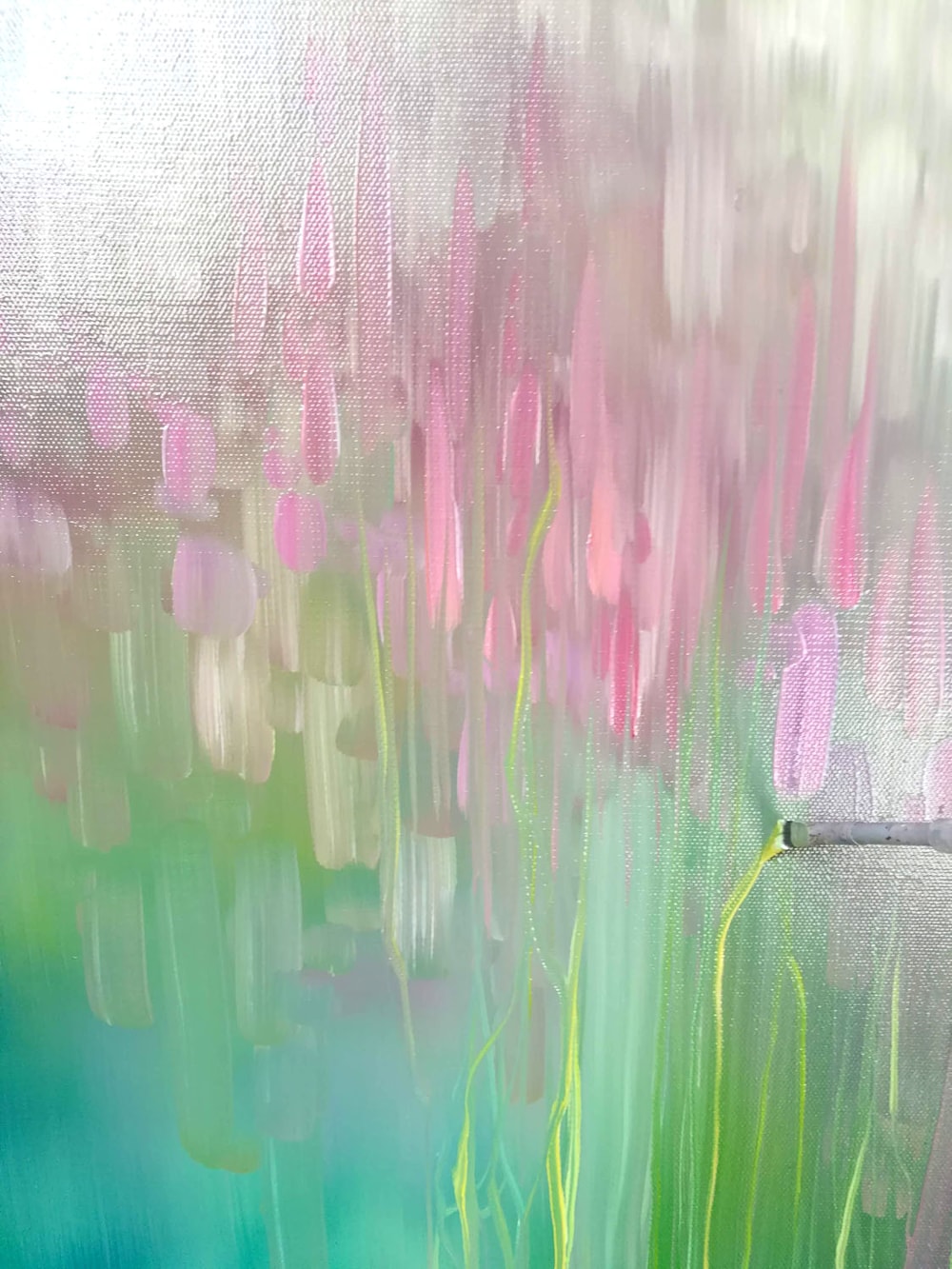 Step 9 – I also used angle brushes to make finer lines and sinuous shapes that could be flower stalks or reeds. I like art nouveau and this possibly shows.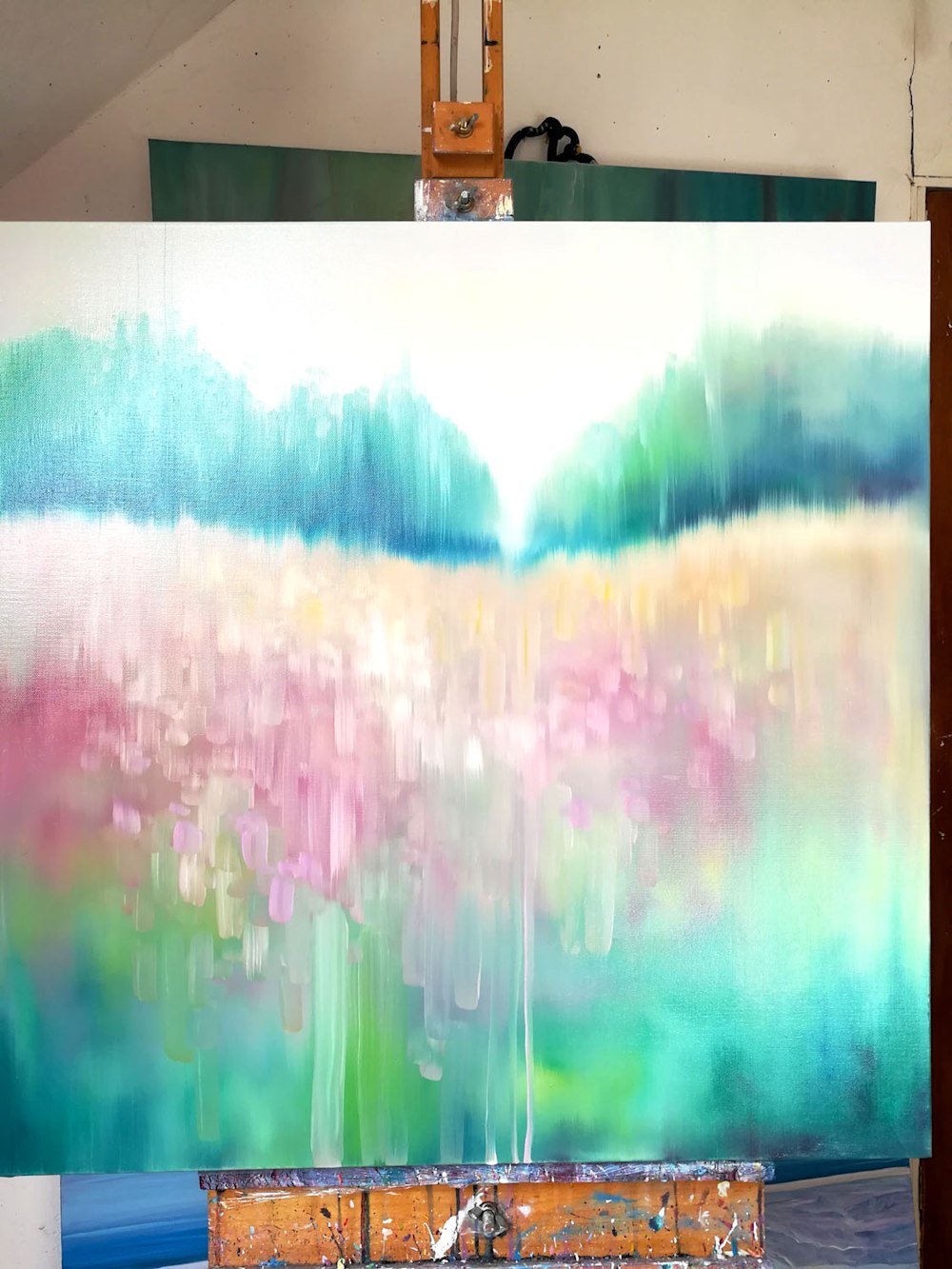 Step 10 – Here you can see the canvas after more manipulation and blending. It can go back and fourth like this for some hours as linseed oil will keep it wet. Once the paint begins to dry a little it is time to stop and let it dry fully before next steps. This is where it stopped at end of day one.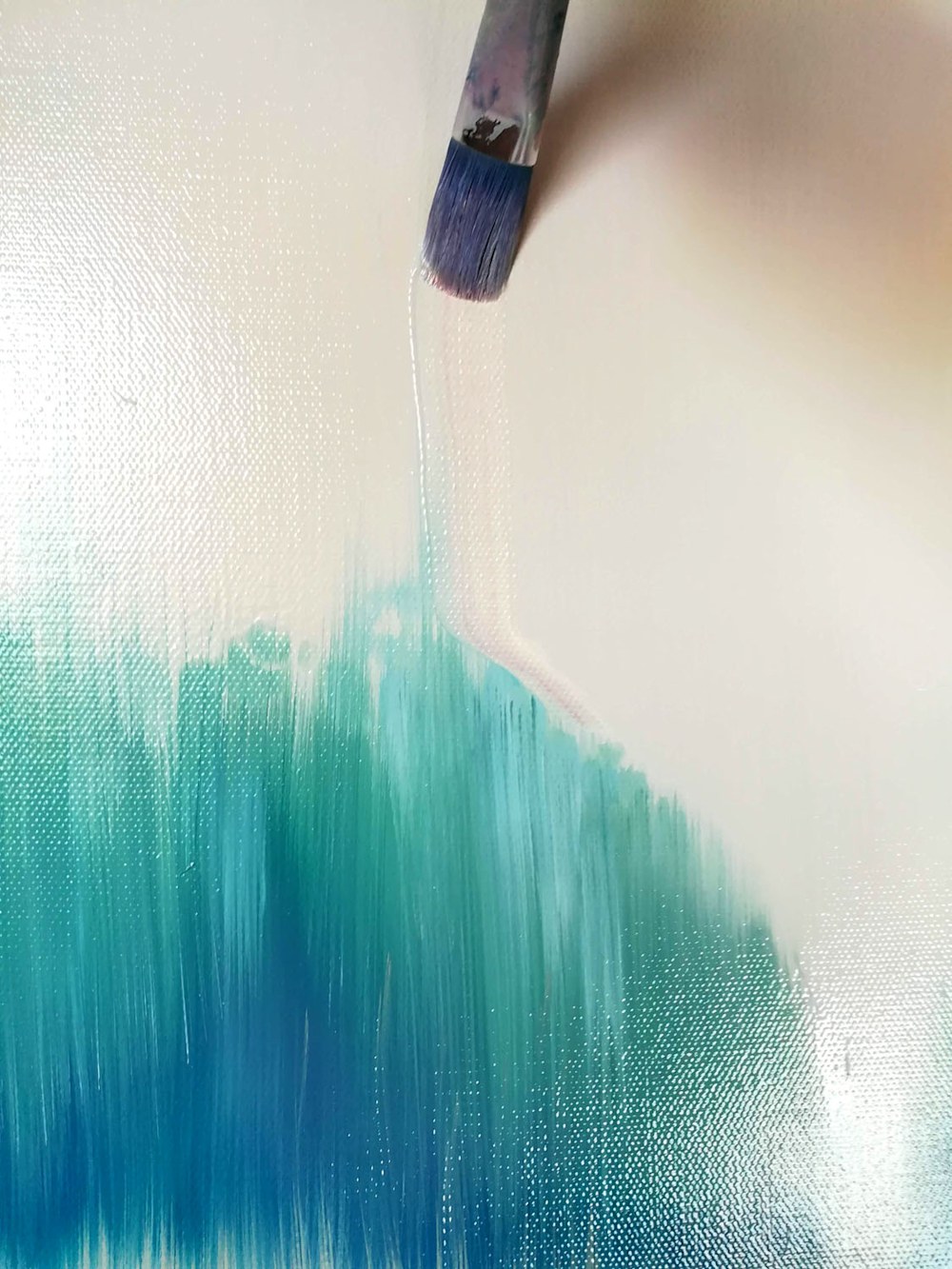 Step 11 – Once paint layer one dry (about a week later depending on what else you add to the medium to make it dry quicker or slower) I added thicker paint and added more details here and there.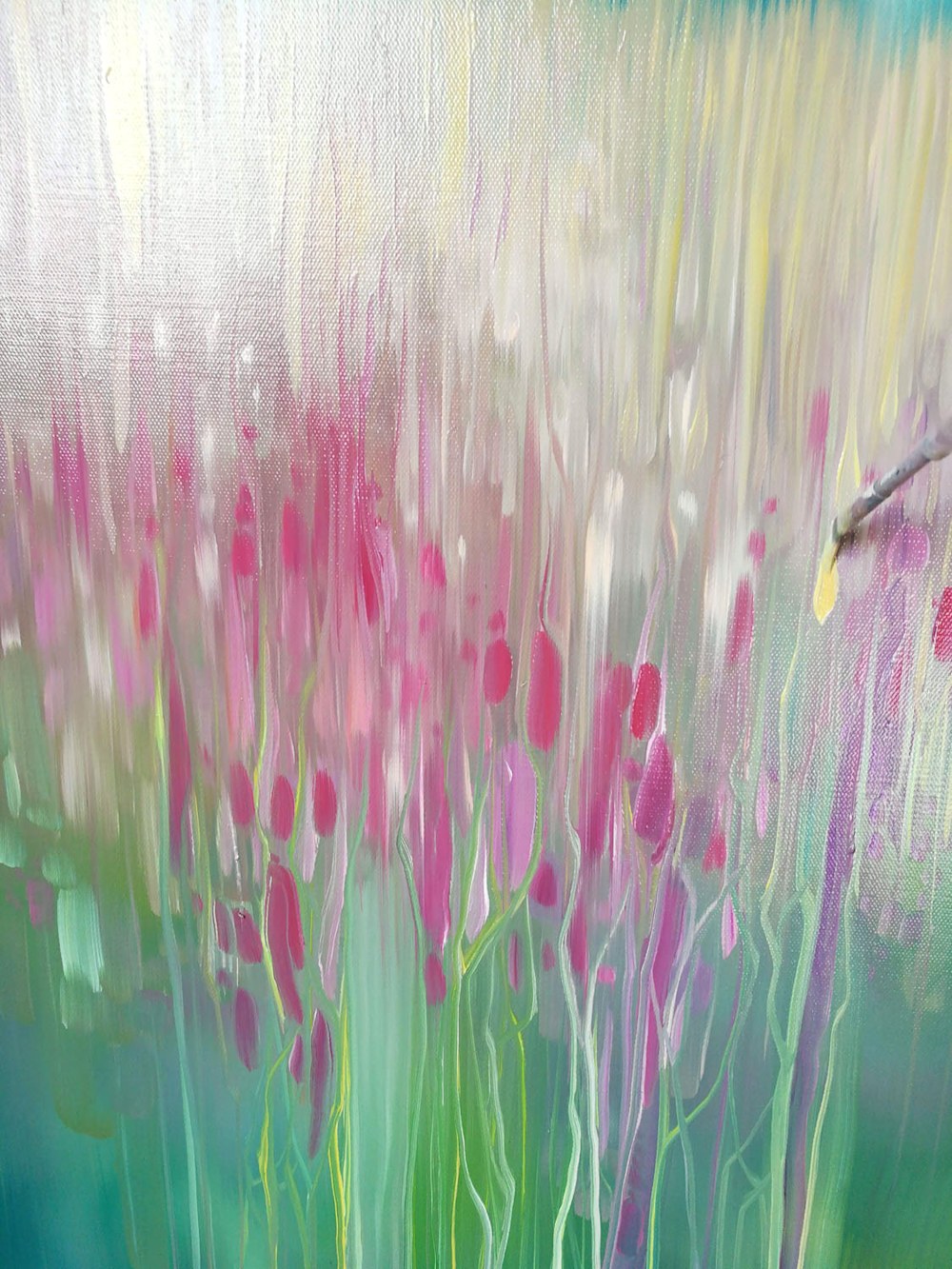 Step 12 – When the first layer of paint is blended, the colours dry slightly duller than the second layer of colours. I love this stage two step as the colours really can start to zing. I spent more hours adding bits here and there and tweaking, re blending and generally playing around until I really liked it.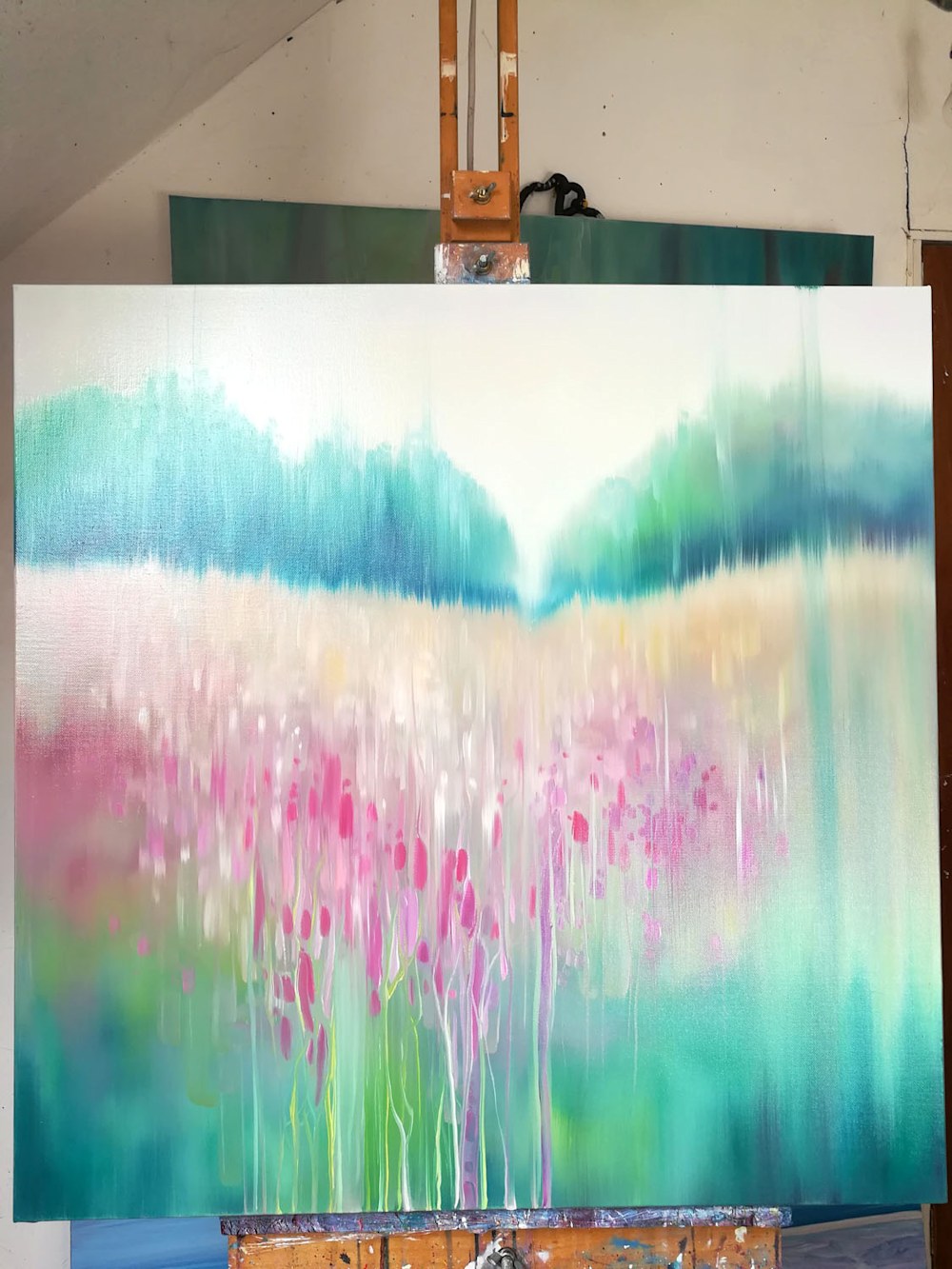 Step 13 – This is the painting at the end of session two. It was left to dry again at this point.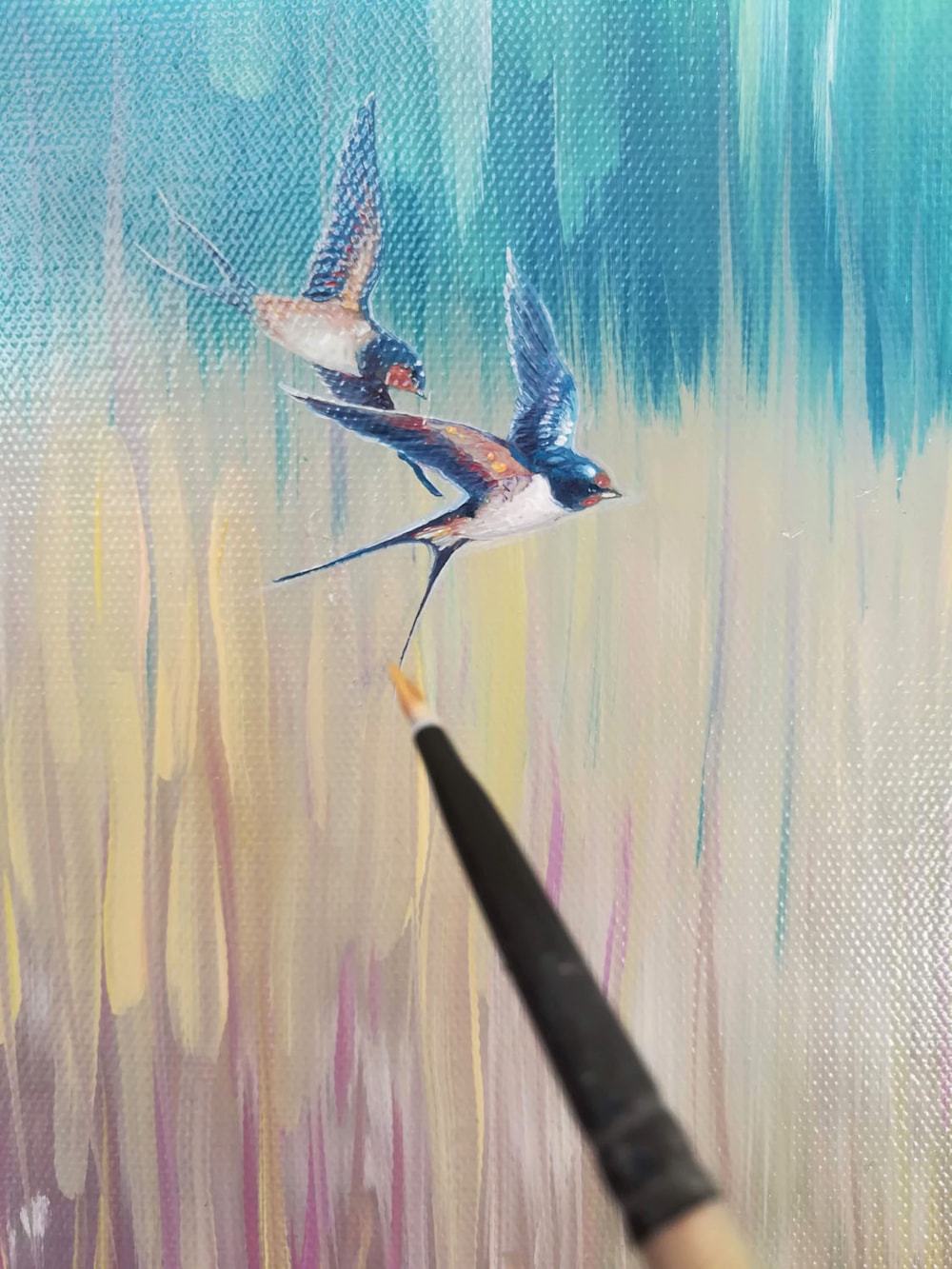 Step 14 – After more tweaks and by painting two little swallows to add a little focus, I then added more layers of paint to make the appearance of veils or screens making it slightly odd and mysterious. I am fond of realistic set against slightly abstract and use this idea a lot.
And finally – the finished painting above...