Capturing the Essence of a Landscape by Gill Bustamante
Oct 11, 2018
One of methods I use to make my large landscape oil paintings is to go somewhere and then paint what I saw. However, I am not a traditional landscape painter. Instead I use a phrase I coined called 'memory Impressionism'
Following are some photos taken from various places I have been and the paintings that were created very shortly afterwards. The first pair was made in Autumn 2018 after walk in the Glyndebourne area of East Sussex. Autumn colours were at their peak and the path shown in the photo was a bridleway that eventually became a steep path up onto the South Downs. I make the painting the next day after the walk and was fascinated to find how the colours and light and ancient trees and ivy bound trunks along with mottled light had impinged on me. It is called October Glows.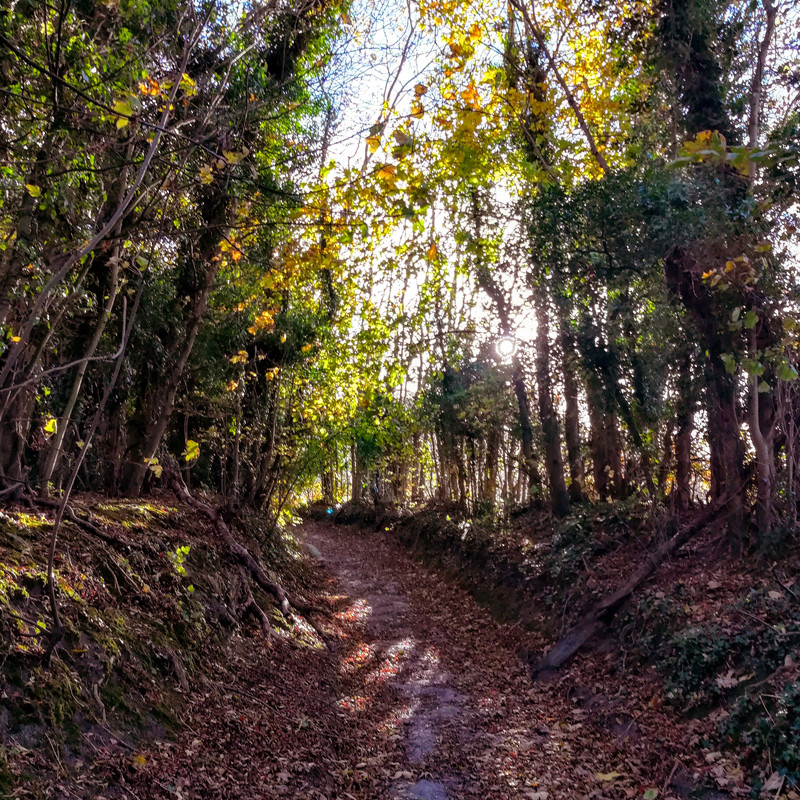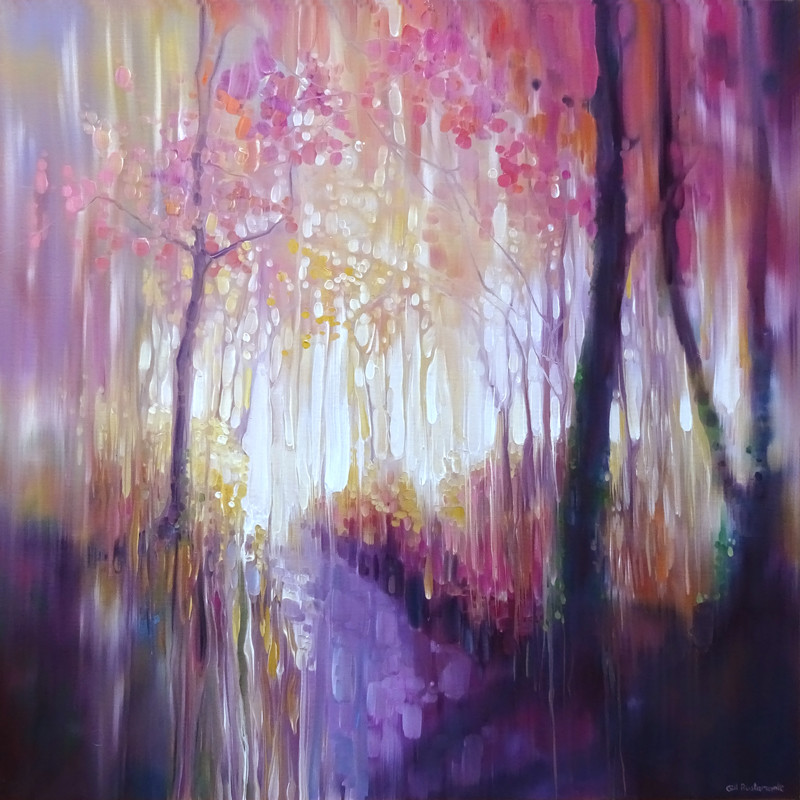 The next photo shows a scrubby woodland pond near Ardingly in Sussex on a frosty morning in December 2017. I did actually also see deer on this walk and have once caught a glimpse of a white deer in the same area but have never managed to photograph him. However, due to the wonderful power of artistic licence, I was able to make this painting which is called Ethereal.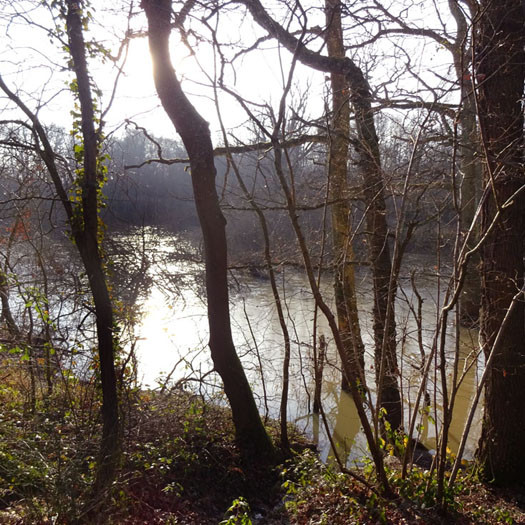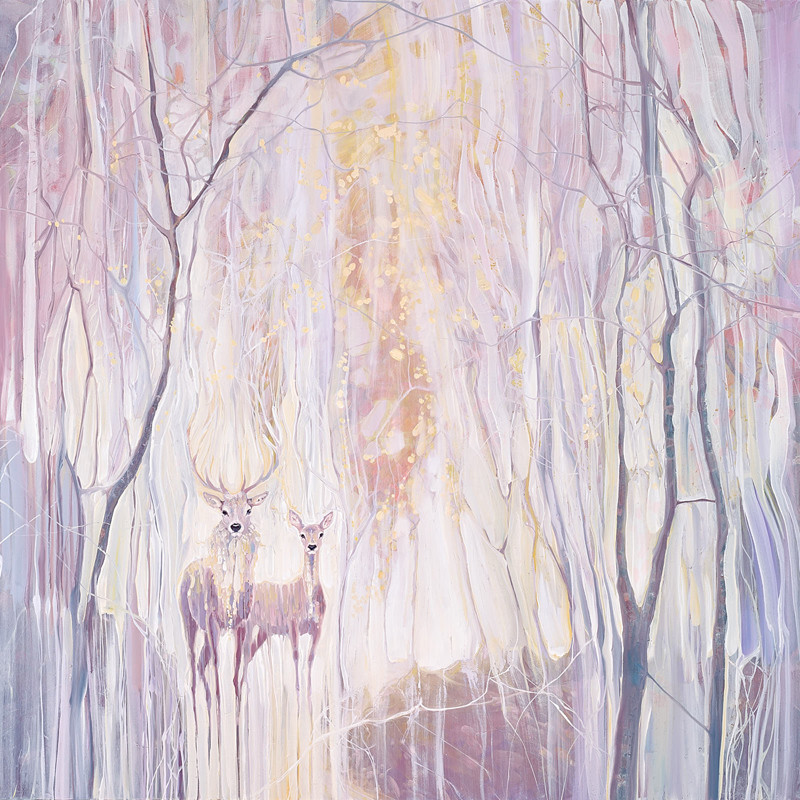 Next is photo is of the reservoir near East Grinstead. It was a slightly misty day in January 2018 and a rookery of crows was in the trees behind me. I saw about 8 deer with one stag in the trees to the left and this led to the painting called Forest Dynasties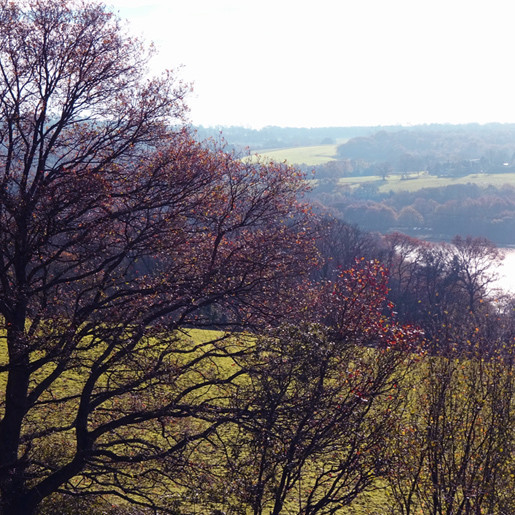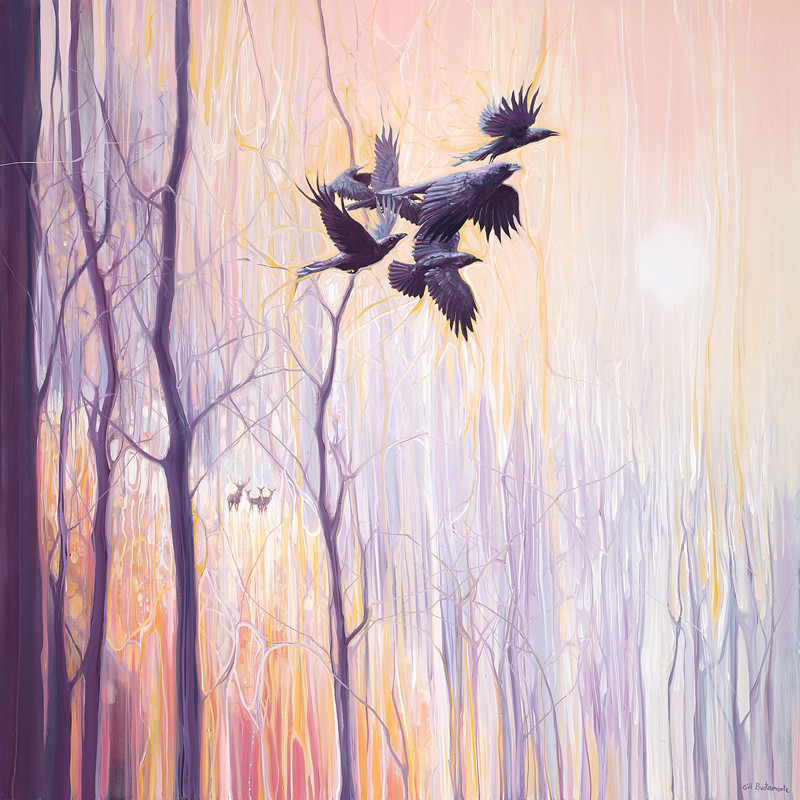 The next photo was taken in a forest near Bodiam castle in East Sussex July 2018. The painting itself reflects the the way I feel about dark forests. I find them beautiful and scary in equal measures. I find woodlands and forests have different atmospheres rather like houses do. Some intimidating, some benign. This forest as a painting became a metaphor for life for me and that is why I called 'Almost There' as it sums up for me the barriers and freedoms and hope involved in trying to reach a goal.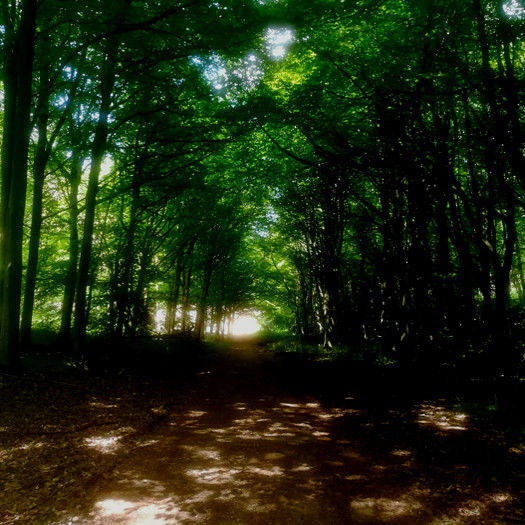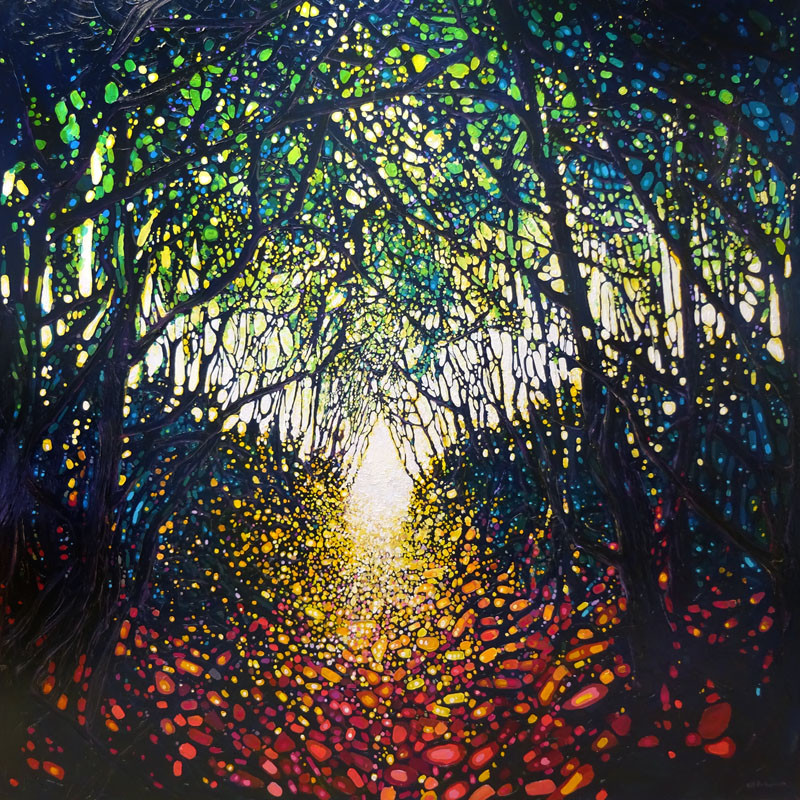 The next photo was taken at the riverside in August 2018 near Fordcombe in Sussex. The resulting painting is called Summer Timewarp. The red bird was not present but should have been.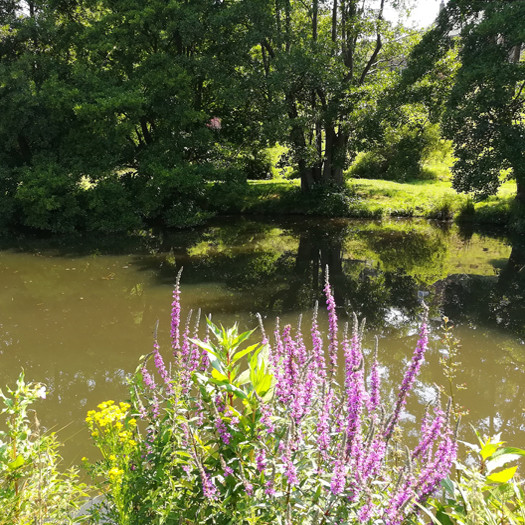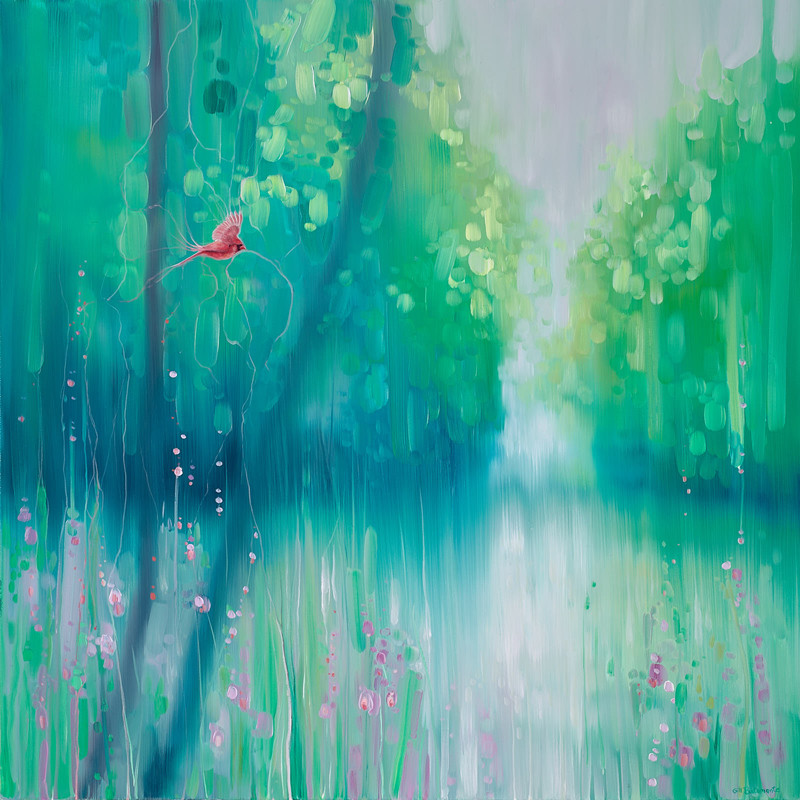 The final photo was taken in woodland near Turners Hill in Sussex. The colours and the ridge of high ground covered in leaves with a lake in the background (though not visible in the photo led to the painting. Deer added liberally because I just like deer. It is called Forest Souls.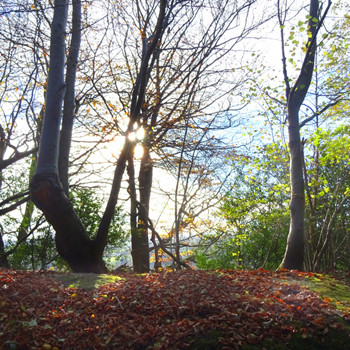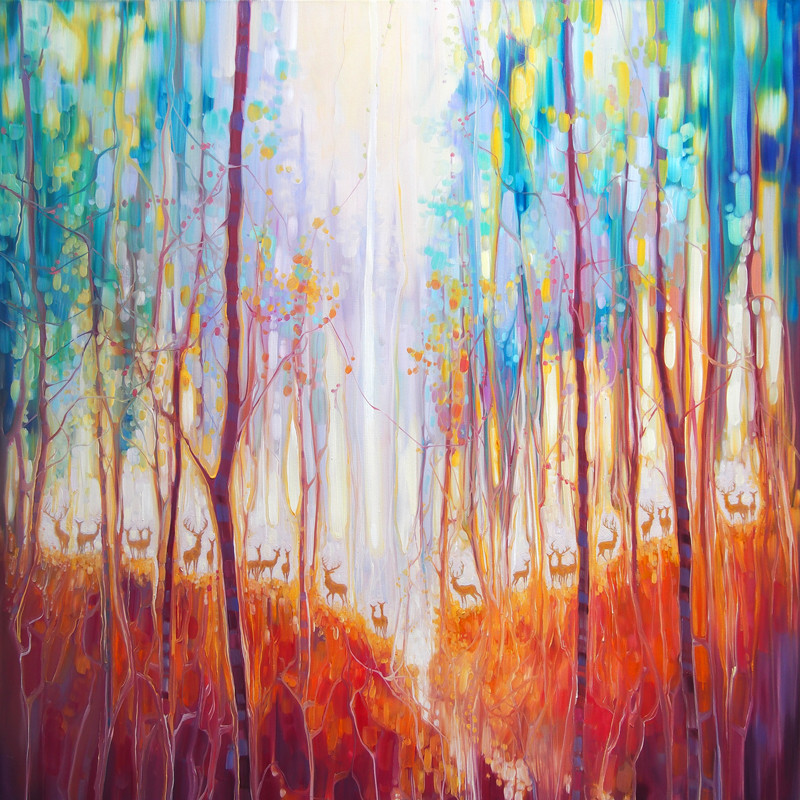 It took me a while to realize what I was doing but it is basically quite simple. I have joined some walking websites where I download walks I can do in Sussex, Kent or Surrey as I am lucky enough to live near to all of them. I go on the walk, get lost, fall in cow poo, get splinters climbing styles, get chased by bulls and have many small adventures - most caused by having no sense of direction whatsoever and weak ankles.
Despite all that, however, I am absorbing the sights, sounds, smells and touch of the landscapes and wildlife I see. The interesting thing is that I never really know what I am absorbing until I get home and try to regurgitate some of it onto a canvas. This may not be a very flattering word for what I do but is appropriate as an analogy I think as I feel like I am consuming the things I see, digesting them a bit and then doing the regurgitating (so to speak).
I do use reference photos, especially for the wildlife bits, but the landscapes are always done from memory as this is how I get to see what was impressed on me during the walk. Inevitably, I do spot a lot of deer and crows woodland birds which I often paint but I also sometimes, for pure whimsy, will add a tiger or non-native UK bird just because they are the right colours to be in the place I painted (artistic license is fabulous) .
I have a theory that paintings are little universes created by artists. Paintings call to people just as a beautiful view does, or a glimpse through a window, or an abstract idea does. If you like a painting it is because it calls to something in you or takes you somewhere or simply just makes you feel some kind of emotion that you want to have repeated again and again. This applies to what I do as I love to see beautiful things and translate them into my own language via paint and present them to other people. The people who like my art are responding because there is some reality in it that they have also experienced or would like to experience. People who don't like it simply have different realities and things they want to experience so I never take it personally when someone does not like my art as some other artist will appeal who is on the wavelength they need.
As always comments welcome!
Very best wishes, Gill