About The Peacocks Garden by Gill Bustamante
Jun 21, 2020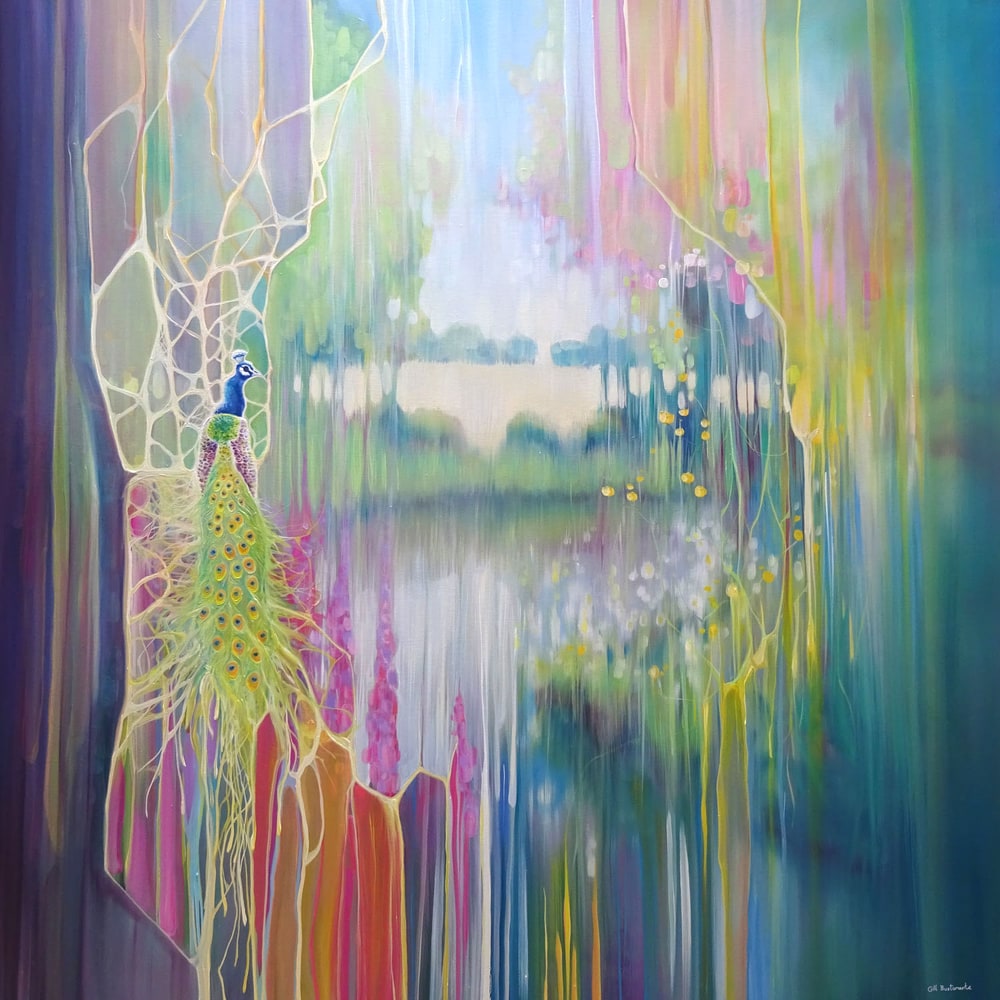 I don't usually talk too much about my individual paintings beyond a basic description but I am going to talk about The Peacocks Garden as it is may be my favourite painting of this year so far despite a global pandemic making everything a bit weird.
The game of painting for me is mostly about the conceiving of the painting, usually by walking somewhere and getting a flavour of some area of Sussex, and then coming home and actually painting it. Selling the painting sometimes follows and is wonderful too but does not compare to the actual act of messing around in a mucky attic with a load of paint like a big kid.
This particular painting was inspired in May 2020 when I took a walk through Burwash area at the height of the Corvid 19 era. It was a hot and clear day and I was roaming around in a big meadow when suddenly, among the sounds of birds and sheep bleating and insects buzzing, I heard a peacock. The meadow I was in was vast and surrounded by more meadows and hedgerows as far as I could see. The river Rother was to one side and a small woodland was to my left. I followed the sound of the peacock to the woodland and thrashed my way through the undergrowth until I came to a well-hidden 7 foot fence in a clearing. Most of the fence was artfully covered with rush matting and floral foliage but after some manoeuvring I managed to see inside to a magical garden with a cornfield beyond and the glimpse of the river with ponds and flower beds. It felt like a view into another universe entirely as I stood in my boots recently covered in cow poo and ate my pork pie lunch. I was in one reality whilst this was another world entirely. Denied to me as a peasant but I loved it anyway.
A few days later, I decided I wanted to paint something that would allow me to have a memento of this brief moment in time and so I began painting The Peacocks Garden. I wanted to show the contrast between a reasonably recognisable view of the river and garden positioned against the unlikely reality of a peacock. A peacock in England still feels strange and exotic and was part of the allure for me of this cameo.
I like contrast. I like polished vs scruffy, neat vs messy, realistic vs abstract and this painting shows these things quite well I think. It is not planned ahead - it evolves naturally just like nature does. Most of my paintings start with a vague idea – in this case I had some photos of peacocks and of the landscapes I seen on the day - and then I just started painting to see what would happen. It is an exciting way to work but has unpredictable results. This one I am showing off proudly but there are many others that get painted over and hidden behind the wardrobe and embarrass me whenever I look at them (a bit like looking at photos of yourself in a former decade).
The main idea behind this and most of my paintings it that I believe there are better things to find in this world than just the mundane and that it is the job of artists to pull back curtains to see what lies beyond. This is one possibility and is dedicated to everyone who also loves to dream and see what is behind curtains...
Gill X